Dart and the Charms of Destiny
(Preliminary Game Document)

Story:
Dart and Lilly, two puppies in love, were strolling in the park when the hyper-dimensional space larvae, V-Klik, from the Hive of Shadow Planets appeared and kidnapped her. Dart must outwit strange enemies and battle his way through tiny Little-Prince-like worlds to reach her before she's overtaken by darkness.

Technology:




Virtual game "worlds" are attached to physical fiducial markers that can be moved around. Here is a

mock up of how worlds turn underneath Dart as he progresses over them: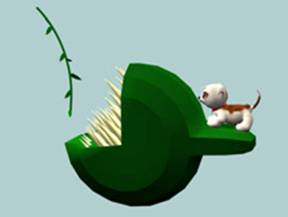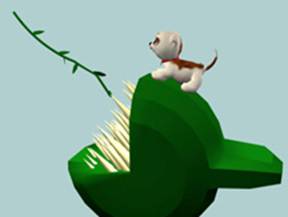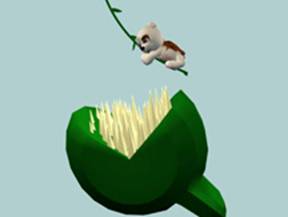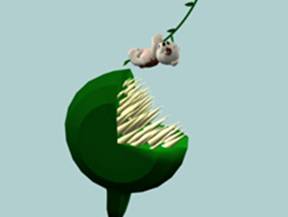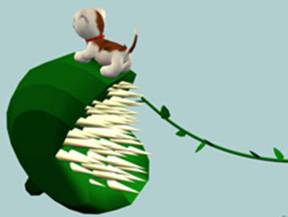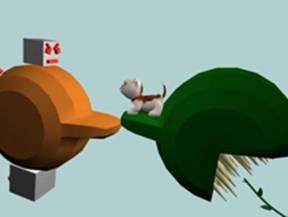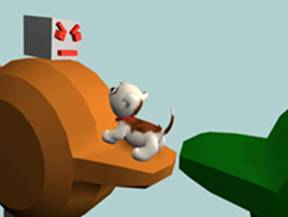 . . .and onto the next perilous world. . .
Basic Game Mechanics:
Dart has three basic abilities: he can move forward, backward as well as jump. Beyond these Dart can acquire powerful charm abilities by collecting and using the Charms of Destiny:
Paw Hammer
Dart's paw can turn into a giant iron fist that can smash objects in front of him.
Arrowdart
Dart shoots forward with enough speed he can run right over short gaps in the ground. Some enemies can't detect his presence when he moves at this speed.
Hover Collar
Dart can barely hover forward and backwards just above ground level.

Useful to get over pitfalls.

Swim-Digger
Dart rapidly digs at the ground with his back legs kicking up enough dirt to fill certain holes. If he is submerged he can use this kick to swim swiftly.
Song of Sweetness
Dart coos a saccharine-sweet lullaby that can melt many creatures into a syrupy sleep.
Freeze Fur
Dart's coat crystallizes in a potent blue ice that protects him from flame. He can freeze entire bodies of water with this charm.
Players choose two Charm Abilities for each Game Level. Each entire game level consists of several game worlds. Each game world is a small sphere on which Dart can move forward or backwards over its surface. Each world floats above a fiducial marker which can be moved and turned by the player so she may get various views of the play space.
Game Worlds:
The Mad Pikes

These punk mushrooms pop their spikes in and out with the beat of the music in their head. Jump on the beat to prove you're hard core, or else your soft core will be impaled!
To beat the world: Time multiple jumps correctly over the enemies.
Useful Charm Abilities: Song of Sweetness, Paw Hammer
Granite

Cat

Cave





This cat-shaped cave is sleepy and really sour about folk just strolling through his maw. Walk slowly and watch the cave carefully to make sure you're not disturbing his grouchy drowsiness too much or you'll be stalagmite stew.
To beat the world: Walk slowly to keep the enemy unaware.
Useful Charm Abilities: Song of Sweetness, Arrow Dart
The Slashpits

These ancient traps will test your patience and prowess as you risk life and limb to swing over these throngs of rusted blades.
To beat the world: Wait for vines to swing close and jump to grab onto it.
Useful Charm Abilities: Swim-Digger, Hover Collar
Chomp-Girl

This enchanted world played too many videogames as a kid so now all she does is imitate her favorite avatar. She chomps her huge mouth at regular intervals so be sure to run and jump when it's safe so you don't turn into a power pellet!
To beat the world: When her mouth is closing quickly go forward and jump over it.
Useful Charm Abilities: Hover Collar, Arrow Dart
(Song of Sweetness doesn't work because she's already so sweet on Pac-Man)
Lava

Falls



This is a popular vacation destination for all kinds of magma creatures and spark spirits, but not for fleshy puppies! But you'll have to make your way through if you want to become a big dog and save your sweetheart!
To beat the world: Walk through each lava fall during the breaks in the lava flow.
Useful Charm Abilities: Freeze Fur
Boulder

Hacker

Ancient sages made these boulders require specific keys to break them into rubble. Crack them quickly because each of them will reassemble crushing anything in their way.
To beat the world: Walk up to each boulder and repeatedly type the key that you see imprinted on it to break it. Move forward as quickly as possible to avoid being crushed inside a reforming boulder.
Useful Charm Abilities: Paw Hammer
Monsoon Moon

Swim fast and hard across this storm ball before the rain and current overwhelm you.
To beat the world: Repeatedly push the jump button to move forward and stay above water.
Useful Charm Abilities: Swim-Digger, Freeze Fur
Basic Game Mechanics:
Charms and the Worlds where they work

Worlds and Charms that work in them

Song of Sweetness

Mad Pikes

Granite Cat Cave

Paw Hammer

Mad Pikes

Boulder Hacker

Hover Collar

Slashpits

Chomp-Girl

Swim-Digger

Slashpits

Monsoon Moon

Freeze-Fur

Monsoon Moon

Lava Falls

Arrowdart

Chomp-Girl

Granite Cat Cave

Mad Pikes

Song of Sweetness

Paw Hammer

Granite Cat Cave

Song of Sweetness

Arrowdart

Boulder Hacker

Paw Hammer

Slashpits

Hover Collar

Swim-Digger

Chomp-Girl

Hover Collar

Arrowdart

Monsoon Moon

Freeze Fur

Swim-Digger

Lava Falls

Freeze Fur
Advanced or Alternate Charm Abilities:
Teleportal
If you are lucky enough to find this charm you can only use it once. A portal appears in front of Dart that transports you to the other side of the world.
Bark of Ages
This thunderous bark can pulverize the hardest crystals and tear apart mountains. It has no effect however on objects softer than granite.
Biggie Brain
This charm makes any obstacle or enemy that involves letters, numbers or symbols incredibly easy to beat (it also doubles the size of Dart's head).
Aurora Armor
Dart gains a luminous coat that protects him from sharp impacts or crushing blows.
Black Hole Belly
Dart can consume anything remotely edible at great speed.
Puppy Runt
Dart shrinks to 1/5 his normal size to crawl through small openings and befriend little creatures who can help him.
Dog Star
Dart turns into pure light which makes V'Klik and his demons visible and solid, which weakens them. Dart can also light up caves and see secret crystals.
Advanced or Alternate Game Worlds
Tastopia (Bonus World)

Collect as much rising food as you can to gain extra lives or collect as many falling stars as you can to gain an extra charm ability.
Useful Charm Powers: None
Quicksandos

This sphere of sinking sand will pull in and drown Dart if he moves too slow or too quickly. Don't panic!
Gumjump

Dodge and jump the falling gooey gum blobs or Dart will be slowed to a sticky crawl.
Crystal's Game

This stubborn little thing won't let you pass unless you beat her at Rock-Paper-Scissors. If you turn the fiducial around and look behind her back you can see which of the three she's going to choose. But be careful, she changes her mind quickly.